Though some time has passed since members of the Carpe Diem collective went their separate ways, the work and the memory of it remain relevant in the landscape of today's experimental menswear. This in no small part due to the emergent lines of its former contributors and the creative directions they have gone on to explore. In the case of Maurizio Amadei's eponymous line, m.a+, that direction often comes across as an ongoing dialogue between form and function.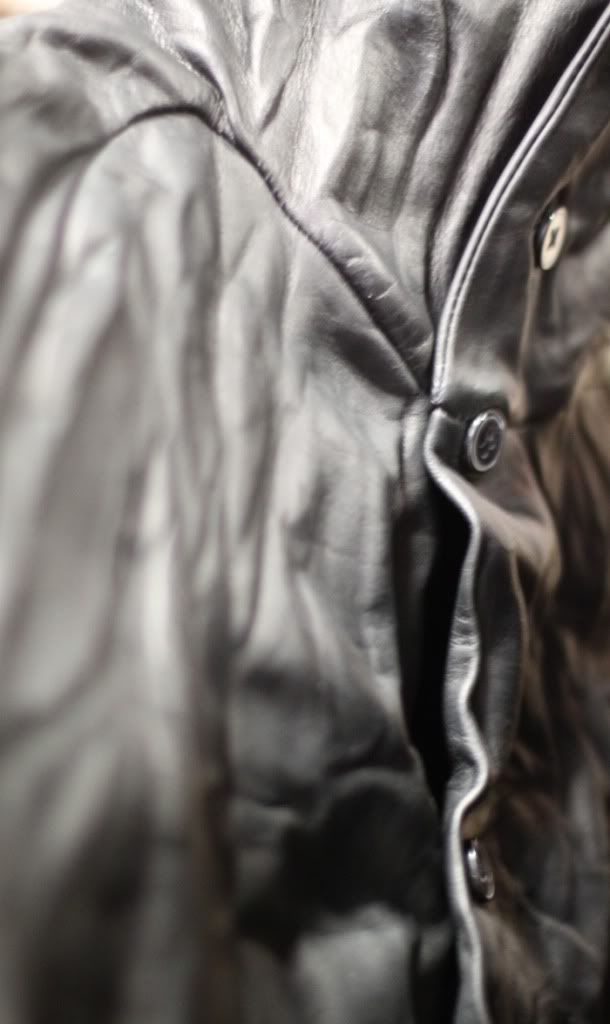 From its first seasons, Amadei's work continues to distinguish itself through an apparent understanding of pattern work, anchoring and other aspects of sartorial engineering that are seldom matched, resulting in garments as innovative as they are imminently wearable.
Perhaps the best example of these ideas, brought together in a piece from this fall/winter season's initial delivery, would be the pleated knee slim trouser pattern executed in a lightweight, polyurethane fused cotton and a heavy indigo-dyed denim respectively.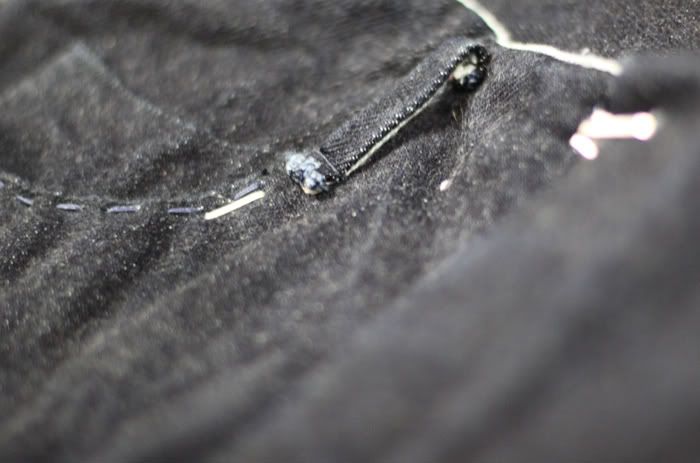 The denim boasts hand finished stitching details and solid silver accents. The distinctive pleated detail at the knee is placed on a curved seam, serving both as the anchoring point for the silhouette through the calf and a means of ventilation. This secondary function in particularly useful in the polyurethane-fused version of the trousers, as the material has an insulating quality despite its apparent lightness, lending to the garment a rarely-matched degree of year-round wearability. Also included in this delivery is an updated version of the classic 5-pocket pant design. This new iteration features a slimmer fit and is available in a light carbon-grey, heavy cotton, canvas fabric.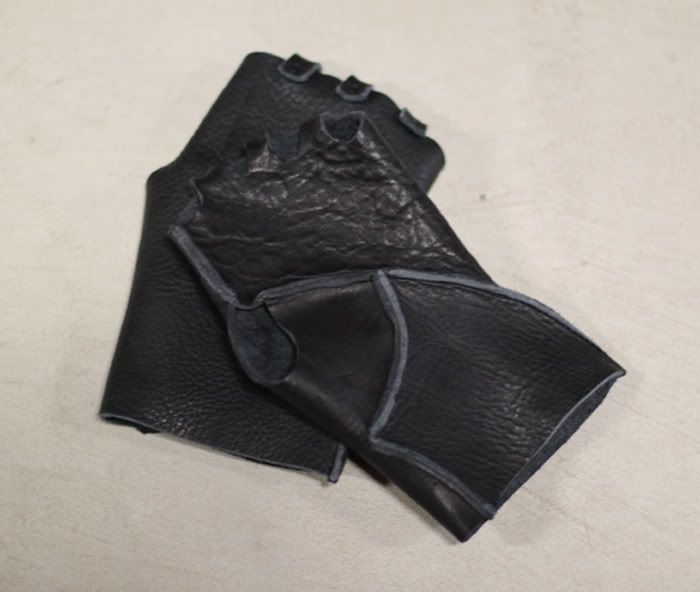 An assortment of leather offerings this season includes the washed 'spy' leather shirt-jacket, constructed of washed calf, which has been oil treated to impart a supple finish. A longer style of familiar, cashmere-lined 'hand-sleeve' gauntlets in smooth calfskin is complimented with an entirely new, short fingerless glove design. This one is an exercise in structured, anatomical construction utilizing panels of thick, heavy bison hide, assembled with their edges folded outward. The heavy grain of the leather is lovingly stained with layers of inky black.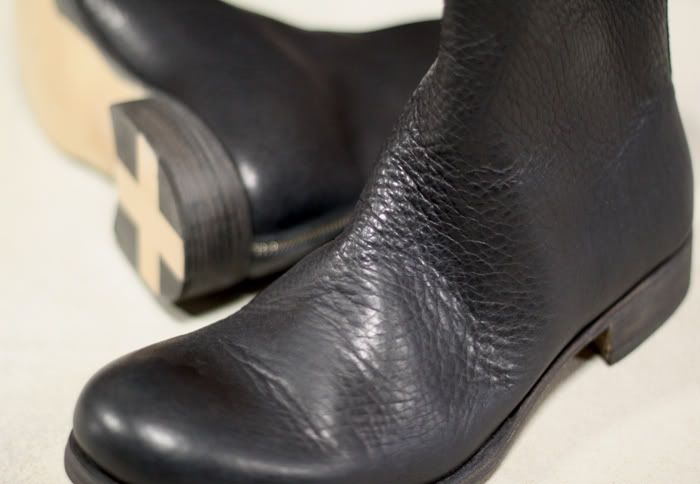 A smoother, more pliable grade of bison leather serves as the material of choice for footwear and accessories in this delivery, featured to a full effect in the rear-zip high ankle boot, with the pronounced grooves of its texture lending a distinct quality to the classic m.a+ silhouette. A similar dyeing technique is employed here as well: the leather is repeatedly stained to achieve a deep, murky off-black color.
A new 8cm wallet has been received in vachetta, reversed vachetta and bison, as well as a limited run of said wallet with silver loop for chain attachment. This is a new iteration of the wallet, fitting between the existing small and medium sizes and perfect for U.S. currency, as the prior small model required folding of bills to accommodate them. The smaller wallet/card-holder has also been received in bison.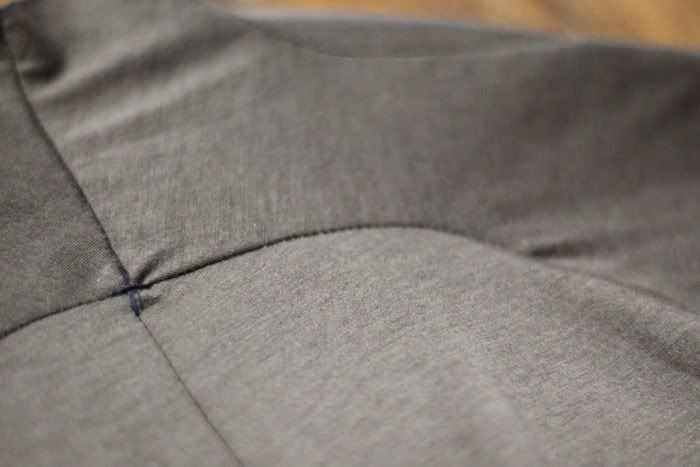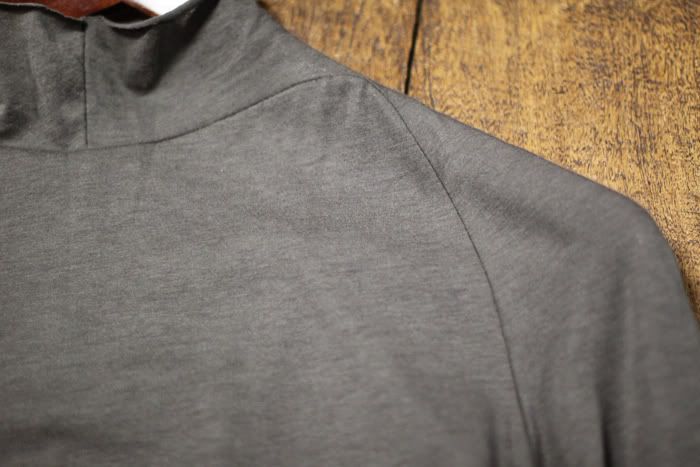 Several of Amadei's highly wearable takes, on basic garments, round out the first delivery selection; including a sleek raglan-pattern "skivvy neck" long sleeve tee with a modified mock turtle collar, available in dark coal. And a linen button-down collared shirt with a hidden button placket detailing in the 'light carbon' colorway.
~Q. Andrisson