The second shipment of Label Under Construction's S/S 2011 collection has arrived and we are very proud to share images of some of the most beautiful pieces that Luca has released yet. We are overjoyed at the opportunity to present these select articles from our shipments, which include knits featuring a very special, batch production run, of a "heavy" silk screening process. A fusion of two creative mediums that serves to elevate Luca's work by way of palpable delineation providing a visual euphony that gives pause.
First is the dual layer, side panel shirt with the finest silk screening work he has produced to date. Constructed of cotton, this dual front panel knit provides a slim fit with the second layer draping to provide a relaxed look while maintaining a fitted silhouette.
The meticulous screen printing applied to the complex seam work highlights one of the greatest strengths of Label Under Construction. An exemplary piece to be sure.
The double front, silk screened, torsion knit. This is a selection from the project in which Luca had utilized yarns of Z and S twisted yarns to create opposing torsion panels. The knits were developed by carrying over this concept into the flat (2D) designs of the shirts as well. It is a project that rendered some interesting forms. The double front torsion presented below is easily the most successful of the project, both for its interesting form and its pragmatic approach to the overall piece as a wearable article.
The silk screening process in the torsion knit is an imperative as it places emphasis on the directional coiling of the yarns and the opposing ZS placement.
The reason we favor this piece in particular is the fluid movement, sans the stark angular disproportions that manifest in the silhouette of the other articles hailing from this quixotically conceptual series.
The print carries through the back portion of the knit which is contrasted by the divergent elements of the over-dyed, name sake, trapezium panel and signature silk screened major arc below the collar line.
Graphite dyed, hooked slim pant. This slim fitting pant has a beautiful silhouette, sharp lines and marvelous details.
The fabric has been
laboriously
worked over
with the hooking process that has produced great effect in his knit wear. Luca's inference of its effect on woven fabrics is met with great reward. The tactile as well as visual experience that the textile provides is one that I can only call a unique encounter, for lack of better words.
The rear pockets are exquisitely situated between two darts which frame the setting with front pockets sitting in the vertical outer seam line (as seen in the series of images of the graphite dyed, notched cotton fabric proceeding the hooked cotton).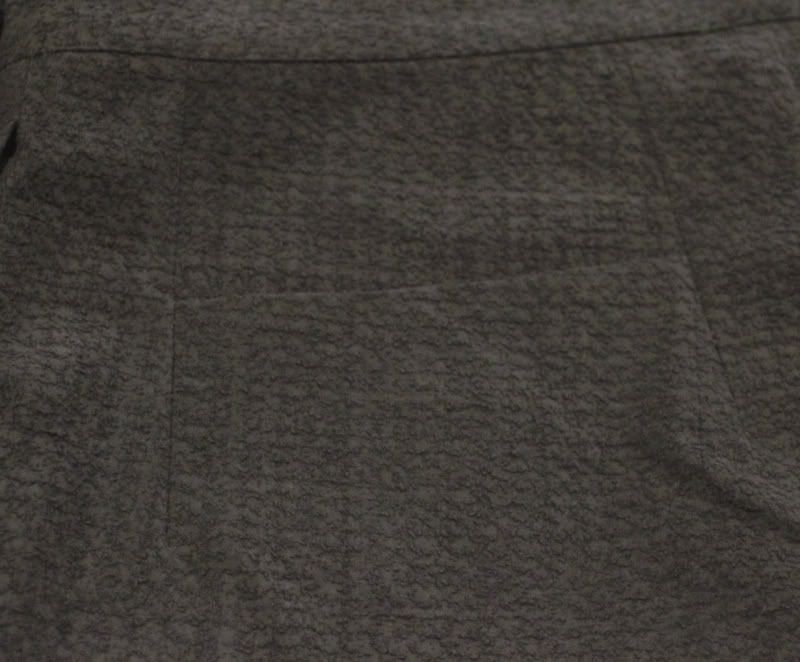 The slim pant in slub notched cotton. The following images can be used as reference of shape and construction details to the slim hooked pants as well.