Carol Christian Poell has created a devout following in the world of sartorial individualists for his experimental approach to textiles and fabrics which are masterfully constructed into magnificently tailored pieces. Poell's design concepts are outdone only by his unrivaled talent for tailoring and every piece he produces is rife with his skill.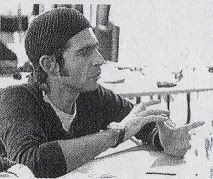 The Austrian designer working out of the Naviglio district in Milan, debuted his first collection for men in 1995. Processes such as object dying for unique color saturations, dye injections into calf leather pieces, as well as utilizing horse, cordovan and kangaroo leather constructed with an overlock stitch pattern (typically seen on agricultural and construction sacks) in his collection; has garnered international attention.
It is Poell's perpetual dedication to nurturing and developing his innovative techniques and constantly evolving concepts, that make him a designer to continually watch out for.